Disc-Releasetermin der dritten »Familiar of Zero«-Staffel
Bereits vor einigen Monaten haben wir darüber berichtet, dass sich AniMoon Publishing die Rechte an den weiteren Staffeln der Isekai-Serie »The Familiar of Zero« (jap.: »Zero no Tsukaima«) gesichert hat. Nun wurde der Disc-Termin der dritten Staffel verkündet und zudem das Schuber-Design enthüllt.
Dritte Staffel ab August 2022
Das erste von drei Volumes ist nach aktueller Planung ab dem 26. August 2022 als Mediabook-Edition erhältlich. Dieses beinhaltet die ersten vier Folgen auf Deutsch und Japanisch, einen Sammelschuber und ein Booklet sowie ein weiteres Extra, das zu einem späteren Zeitpunkt vorgestellt wird.
Mit dem zweiten Volume geht es dann am 14. Oktober 2022 weiter, bevor das dritte Volume am 2. Dezember 2022 erscheint. Die UVP beträgt 44,99 Euro für das erste Volume und jeweils 42,99 Euro für die beiden weiteren Volumes. Alle drei Volumes sind bereits im AniMoon-Shop vorbestellbar.
Die dritte Staffel mit dem Titel »The Familiar of Zero: Rondo of Princesses« (jap.: »Zero no Tsukaima: Princesses no Rondo«) lief von Juli bis September 2008 im japanischen Fernsehen. Die Produktion fand unter der Regie von Yuu Kou (»Giant Killing«) im Studio J.C.Staff statt.
Zweite Staffel bei Amazon bestellen:
>> Vol. 1 (DVD | Blu-ray)
>> Vol. 2 (DVD | Blu-ray)
>> Vol. 3 (DVD | Blu-ray)
Sammelschuber: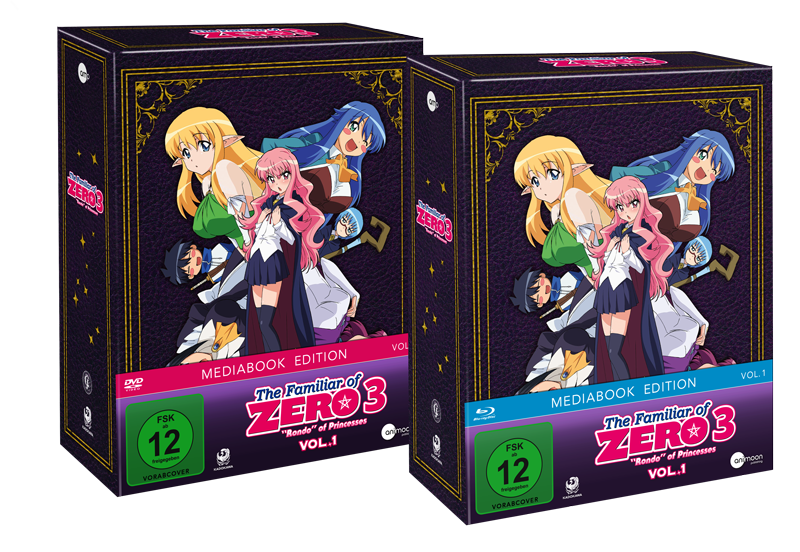 Weitere Volumes
Handlung:
Nach Saitos heldenhaften Taten im Krieg mit Albion in der zweiten Staffel kehren Saito und Louise nach Tristain zurück, nur um festzustellen, dass die Runen, die Saito und Louise verbinden, verschwunden sind. Saito und Louise kämpfen mit einer Beziehung, die nicht mehr als Meister und Vertrauter definiert ist, und suchen nach einem Elfen, der die Macht hat, Tote wieder zum Leben zu erwecken, und der vielleicht den Schlüssel zu Saitos Verlust der Macht des Gandalfs hat.
©KADOKAWA CORPORATION 2015.
Lesen Sie hier weitere Anime-Neuigkeiten.