Netflix: Zweite »Record of Ragnarok«-Staffel erscheint 2023
Auf dem offiziellen Twitter-Account der Anime-Adaption von »Record of Ragnarok« (jap.: »Shuumatsu no Valkyrie«) wurde heute verkündet, dass die zweite Staffel im Laufe des Jahres 2023 weltweit auf Netflix erscheint. Ein neues Visual seht ihr weiter unten in diesem Artikel.
Details stehen noch aus
Die zwölfteilige erste Staffel von »Record of Ragnarok« entstand unter der Leitung von Regisseur Masao Ookubo (Konzeptdesign von »Welcome to Demon School! Iruma-kun«) im Studio Graphinica (»Hello World«). Kazuyuki Fudeyasu (»In the Land of Leadale«) übernahm die Serienkomposition.
Ob die zuvor genannten Mitwirkenden auch an der zweiten Staffel arbeiten werden, ist zum aktuellen Zeitpunkt noch nicht bekannt. Wir halten euch natürlich wie gewohnt auf dem Laufenden, sobald uns weitere Informationen zur Fortsetzung der Anime-Umsetzung vorliegen.
Netflix bietet die erste Staffel seit dem 17. Juni 2021 unter anderem mit deutscher und japanischer Sprachfassung auf Abruf an. Die originale Manga-Reihe ist hierzulande bislang nicht erhältlich.
Mehr zum Thema:
Visual: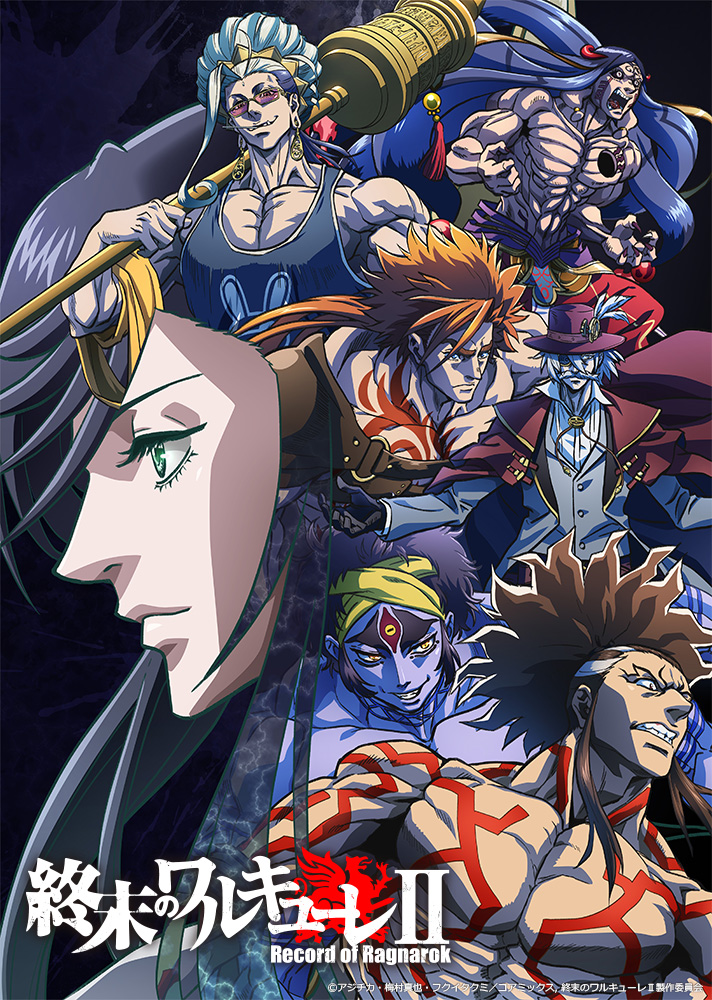 Handlung:
Die Götter berufen eine Versammlung ein, um zu entscheiden, ob sie die Menschheit leben oder sterben lassen sollen, und wählen die Vernichtung der Menschheit. Aber eine einsame Walküre macht den Vorschlag, die Götter und die Menschheit in einer letzten Schlacht kämpfen zu lassen, als letzte Hoffnung für das weitere Überleben der Menschheit. 13 Götter treten gegen 13 menschliche Champions in Eins-gegen-Eins-Kämpfen an, um zu entscheiden, ob die Menschheit lebt oder stirbt.
©2017 Shinya Umemura, Takumi Fukui, Ajichika / Tokuma Shoten
Lesen Sie hier weitere Anime-Neuigkeiten.