»Saekano the Movie: Finale« bei Amazon vorbestellbar
Bereits vor etwa einer Woche konnten wir euch über den Disc-Termin des Films »Saekano the Movie: Finale« von peppermint anime informieren. Ab sofort ist dieser bei Amazon vorbestellbar.
Film erscheint im September 2022
Der rund 114-minütige Sequel-Film »Saekano the Movie: Finale« erscheint nach aktueller Planung am 15. September 2022 mit deutscher und japanischer Sprachausgabe im Digipak mit Schuber auf DVD und Blu-ray. Die ersten 250 Besteller im AKIBA PASS SHOP erhalten einen Acrylaufsteller als Extra.
Der Streifen entstand unter der Regie von Kanta Kamei (»Dimension W«) und Akihisa Shibata (Episode Director bei »Horimiya«) im Studio CloverWorks. Der Original-Autor Fumiaki Maruto verfasste dabei das Drehbuch, während Tomoaki Takase (»Occultic;Nine«) das Charakterdesign beisteuerte.
»Saekano: How to Raise a Boring Girlfriend« basiert auf der gleichnamigen Light Novel aus der Feder von Fumiaki Maruto, die in insgesamt 13 Bänden von Juli 2012 bis Oktober 2017 mit Zeichnungen von Kurehito Misaki im japanischen Handel veröffentlicht wurde.
Bei Amazon bestellen:
>> Staffel 1 Vol. 1 (DVD | Blu-ray)
>> Staffel 1 Vol. 2 (DVD | Blu-ray)
>> Staffel 2 Vol. 2 (DVD | Blu-ray)
>> Staffel 2 Vol. 2 (DVD | Blu-ray)
>> Sequel-Film (DVD | Blu-ray)
Vorab-Cover: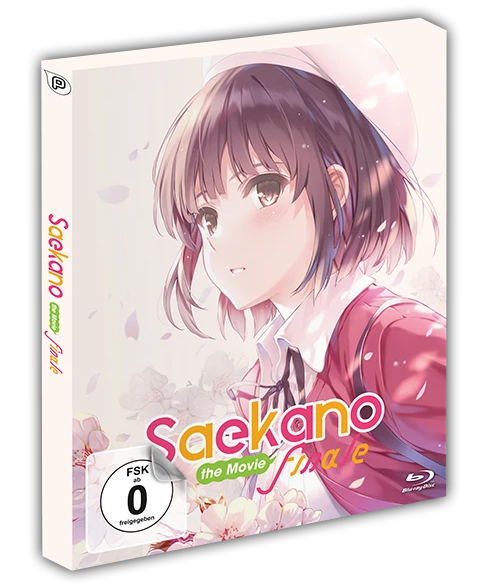 Handlung:
Eines Tages trifft der Oberschüler Tomoya Aki auf Megumi Kato und wird von der Idee eingenommen, dieses normale Mädchen in die Heldin seiner Visual Novel zu verwandeln. Mit Freunden gründet er das Entwicklungsteam Blessing Software. Sind sie in Lage das Spiel rechtzeitig zur bevorstehenden Winter Comiket in zwei Monaten zu beenden?!
© 2015 Fumiaki Maruto・Kurehito Misaki・KADOKAWA / Saekano Production Committee
Lesen Sie hier weitere Anime-Neuigkeiten.