Start von »Bocchi the Rock!« steht fest + Visual
Auf dem Twitter-Account der Anime-Adaption von »Bocchi the Rock!« wurde heute verkündet, dass diese ab Oktober 2022 im japanischen Fernsehen ausgestrahlt wird. Ein neues Visual könnt ihr euch weiter unten in diesem Artikel ansehen.
Anime entsteht bei CloverWorks
»Bocchi the Rock!« wird unter der Leitung von Regisseur Keiichirou Saitou (Storyboard bei »Sonny Boy«) im Studio CloverWorks produziert. Erika Yoshida (»Tower of God«) verfasst das Skript und übernimmt die Serienkomposition, während Kerorira das Charakterdesign beisteuert.
In den Hauptrollen sind Yoshino Aoyama (Yoshino Nanasen in »Wake Up, Girls!«) als Hitori Gotou sowie Sayumi Suzushiro (Akira Oono in »Hi Score Girl«) als Nijika Ijichi zu hören, während Saku Mizuno (Rena Hananoi in »Selection Project«) die Rolle von Ryou Yamada übernimmt und Ikumi Hasegawa (Vladilena Milizé in »86 EIGHTY-SIX«) den Charakter Ikuyo Kita spricht.
Der originale Manga stammt aus der Feder von Aki Hamaji und wird seit Dezember 2017 im »Manga Time Kirara MAX«-Magazin publiziert. Der Verlag Houbunsha veröffentlichte bisher drei Bände im japanischen Handel. Hierzulande wurde das Werk bislang noch nicht lizenziert.
Mehr zum Thema:
Visual: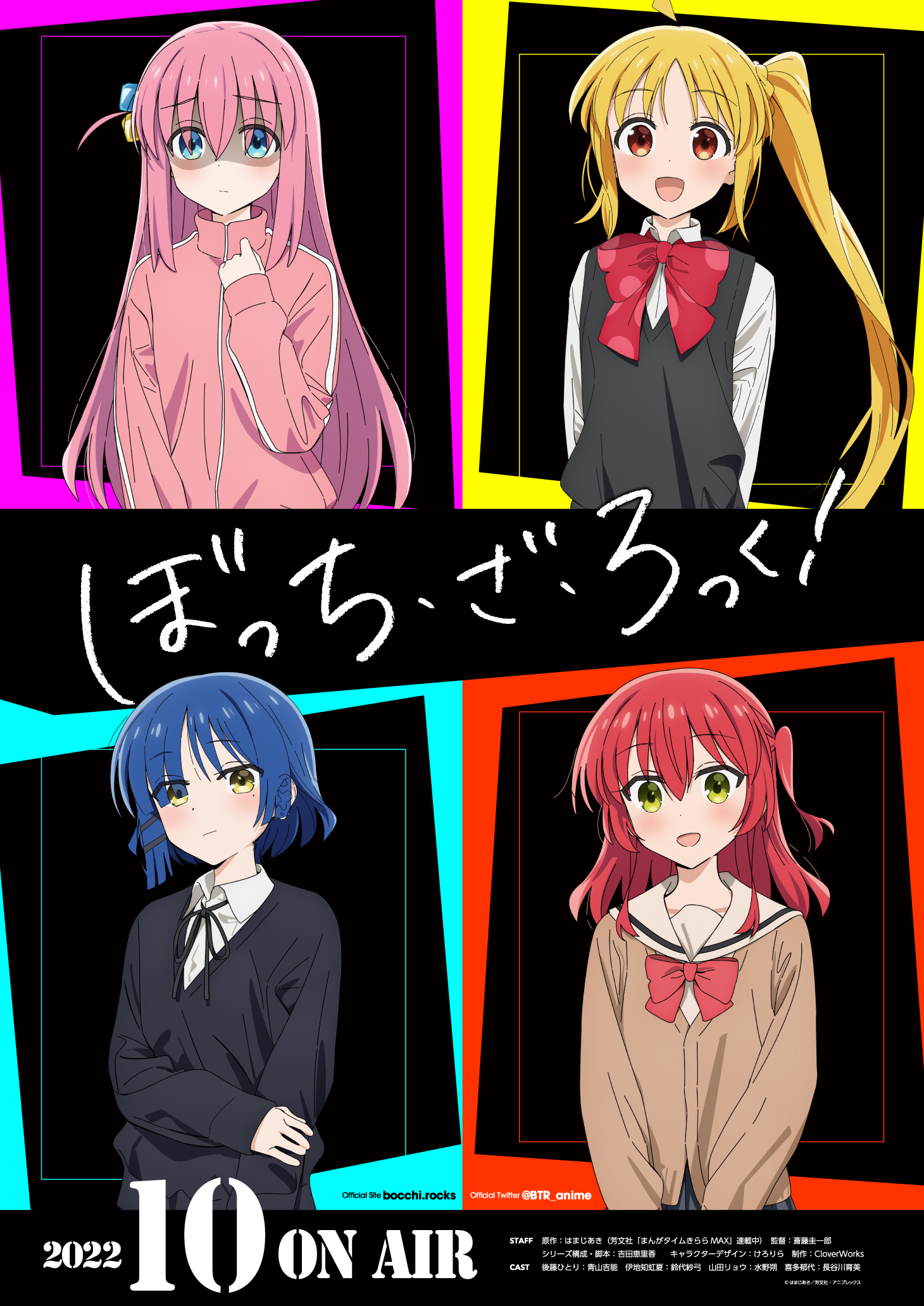 Handlung:
Die Oberschülerin Hitori Gotou lernt das Gitarrespielen, weil sie davon träumt, Mitglied in einer richtigen Band zu sein! Allerdings ist sie schüchtern und konnte noch keinen einzigen Freund finden. Nach ihrem Treffen mit Nijika Ijichi scheint ihr Traum jedoch in greifbare Nähe zu rücken, denn Nijika kann Schlagzeug spielen und sucht einen neuen Gitarristen für ihre Band.
©2017 Aki Hamaji / Houbunsha
Lesen Sie hier weitere Anime-Neuigkeiten.